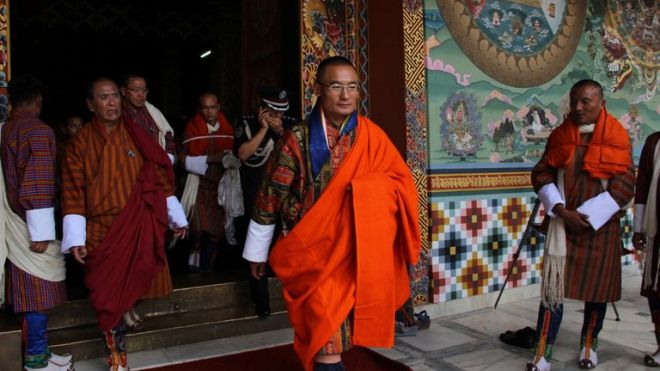 Dear Editors:
Jamyang Norbu had mentioned in his article titled, "
The Sad Painful Joke of Tibetan Democracy
." To me the title 'Kalon tripa' does not at all sound grandiloquent as JN had said. In fact, it sounds a little diluted if not timid that resonates a little religious tone or Gandhen Phodrang since it's an offshoot of Gandhen Tripa, the holder of Gandhen throne. The word Lonchen is more apt such as Shatra Lonchen, our prime minister during the 13th Dalai Lama's time or Druk Lonchen the prime minister of Bhutan. Lonchen succinctly jibes with the English language: Chen for prime and lon for minister. Today the title Sikyong is more appropriate for our virtual prime minister in CTA or TGiE, meaning Central Tibetan Administration or Tibetan Government in Exile; a government not recognized by the international body. So, where is the grandiloquence with the Kalon Tripa title?
In the last couple of months, I was a little chagrined with all the sass and razzmatazz without much pizzaz in the peaceful sanctuary of Dharamshala, nestled in the mountains in Himachel Pradesh. Tibetan Parliament in Exile was severely criticized for its denunciation of its member Karma Choephel, and subsequent rebuttals by JN and Tibetan Political Review (TPR), etc. The cast consists of Jamyang Norbu (JN), Chithu Karma Choephel, our North American Chithue Norbu Tsering and other members of the parliament.

In retrospect, when I contemplate about the whole thing I no longer feel that bad. This new change of heart is certainly reinforced by the notion that eternal bickering is the price of democracy. Hence, all the bickering, finger-pointing and mud-slinging go in tandem with democracy across the globe. It's also a clear indication that there is "tamjod rangwang" or freedom of speech. No wonder China is leery of western type of democracy, with many projects getting bogged down in marathon debates about the merits and the  demerits of a project and so on. And, somewhere there we, too, are getting distracted in our pursuit of freedom and justice in our baby-stepping democracy. However, involvement by all in our struggle to rectify our short comings, is necessary in a democratic environment in line with the maxim that action speaks louder than words.
Some have complained that there's no democracy without two parties, profoundly designed to articulate the truth. In the West we are entitled to many parties and freedom of speech but the question is who is listening or hearing when an individual
 has grievances? The answer is nobody. In our case of fledgling democracy in diaspora if one has a grievance, the subject could literally vociferously yell to Sikyong or the Kashag through the windows at the CTA offices in Gangchen Kyishong. Or, stand with a placard in hand with written grievances near the CTA offices. You do that in western democratic states without permit, you will be locked up. Democracy is never fluid, particularly in its early stages as it is the case in many Arab States in the Middle East and north Africa. In Egypt's case Mohamed Morsi who was popularly elected was booted out on July 3, 2013 and is under house arrest. And, caged like a zoo animal during trials just like Hosni Mubarak. 
JN has touched about democracy in sovereign Bhutan but this beautiful kingdom of six hundred thousand citizens has its own problems to deal with. Just to mention one of the problems is that Bhutan now has 50 young citizens with pilot licences but the problem is it has only four planes. That's Bhutan's headache. Bhutanese democracy aside, our Chithue Karma Choephel seems to be fixated with Desig Monlam prayers "Words of Truth Prayer," written by His Holiness over a half century ago. Please come down to earth. This is 21st century and there are too many important issues that need to be tackled by members of our parliament rather than getting too consumed by the prayer wordings.
It's not only you had erroneously misinterpreted Kundun's feelings, but you did it with an air of arrogance and defiance. Please don't mix religion and politics since Kundun had timely separated religion from our political endeavors and devolved his authority. You seem to be a religious person and it's obvious that you are still entangled in the 'choesi nyidhen'(church and state) mode. So, please reboot and refresh yourself. And if possible, vacate your seat after twenty six years of your service. That would be swell and, serendipitously, it will ensconce you in a comfy zone to pursue your religious practices. What better way to retire for a devout person. 
Many chithues' scathing words against Karma seem nothing more than venting out their displeasure, but the whole thing was done in a formal ambiance conforming to standards of  propriety, unlike in other global parliaments where members scuffle, exchange blows, throw chairs and objects at each other -- and what not in raucous showdowns -- paling the Thrilla in Manila or the Mike Tyson-Hollyfield thriller. There's none of that in Dharamshala. 
However, Norbu Tsering's diatribe was a little abrasive and I believe it was more emotional than anything else; perhaps a reflection of feelings of Tibetans in the Toronto area as well as in the US, since he represents north American Tibetans. The reduction of Kundun's living age is strictly in Tibetan Buddhist context and he should not have coo cooed about it to any outside members in politics because it wouldn't make any sense in the political arena. Over time he will learn and get more seasoned as we all err and learn from our mistakes. That's what life is; a continuous learning process till the day we die.
To liken Chithues' reprimand on Karma to
 'thamzing'
to mini-Cultural Revolution in Dharamshala is preposterous.  I have attended thamzing sessions in Tibet. I can still recite some thamzing lines and communist songs of the Great Leap Forward period. Thamzing during the dark years of the Cultural Revolution was so vicious China's top revolutionary figures like Liu Shao-chi and Peng Dehuai died as a result of severe beatings, while Liu's Mrs. Wang Guangmei managed to survive. You stated as to how did our politics degenerate to this to septic-tank low. Well, your brazen distortion of facts and malicious attacks against our establishments though not run well enough to satisfaction, stink like septic tank.

JN might not have been rude at all to Kundun when he was not in favor of MWA since that's one's democratic right. However, at times he did seem disrespectful of Kundun, when he had stated in the past that Kundun should be joining the crowds in the streets during protests and demonstrations, etc. This statement is bizarre if not obtuse in today's geopolitical climate when we in diaspora are subject to host country's cues, and our concerns for visa procurement for Kundun when visiting foreign cities and lot more. It's just common sense, come on.
Add to this an article in Newsweek by JN few years back that banyan tree gives good shade but not much grows under it. The Dalai Lama is the banyan tree meaning not much grows under the leadership of our most precious, the great 14th Dalai Lama. How callous, delusional, ungrateful and un-Tibetan of him. To use your term, this is the classic case of lowering oneself from the highest peak to the gutter. It is the Dalai Lama who has carried us thus far in his struggle for our cause, and has received a slew of accolades, Nobel Peace Prize, Congressional Gold Medal, and many more. As of last June His Holiness is the most popular leader in the world, even superseding Barack Obama, according to polls taken in the free world in June, 2013. His prestige has spanned from the Arctics to Tierra de Fuego, and from Machapuchare to Machu Pichu.
JN also took something in its literal sense when there was a statement that we have much to gain from China since we are a land-locked nation. Our adversary is more receptive to such lines instead of lines well thought out with reason, reality and facts to which they would turn a deaf ear. He jumps the gun on it, and perhaps is now a little gun shy after this revelation. This logic is emphatically confirmed by a seasoned Tibetan, who had worked under the communist system in Tibet.

And, JN's incessant hurling insults and scathing accusations of our past TGiE Kalons, and our Chithue Tsogtso (Speaker of the Parliament) in very derogatory language during the RAF drama was despicable. Our patriots like the late Panchen Lama, Baba Phuntsog Wangyal are labelled as collaborators. Among the many non-Tibetans, he has criticized are Miss Libby Liu of RAF, Wang Lixiong (Woeser's husband), Lee Kuan Yew of Singapore who was instrumental in gaining independence for Singapore in 1965, and making S'pore one of the most dynamic countries in the world along with the Scandinavian countries. Lee Kuan Yew is often consulted by Beijing on foreign affairs, Man Mohan Singh for economic developments in India, and Dr. Kissinger in Southeast affairs. When one brazenly criticizes some of these figures, one's making a mockery of himself, and in the process devaluing one's standing in the community.
Similarly, we also had/have our share of disgruntled malcontents in the US. Somewhere in early stages of their life something negative had happened, resulting in not making it in life. Consequently, they don't quite fit in with society, and resort to taking cheap potshots at establishments, a classic trait mark of such crackpots. Sometimes a little destructive like the Symbioses Liberation Army, the Black Panthers, The Red Guards, etc. from 1969 - 1972, clustered mainly in the Bay Area. They were the trash of society and losers in life.
However, JN shines best when he writes about Tibetan history, plays, our tsampa and Losar khabses, et al; that's his niche. And, the best is when he goes like a Tibetan dogkyi (drokyi or mastiff) after foreign running dogs of Beijing for distorting our history, in hopes of gaining some favorable concessions or monetary incentives from the new emperors of China. However, the danger with dogkyi is that it will roar and attack anyone except the one that feeds it. So, beware. As such, when in my mind I juxtapose JN with Melvin Goldstein, Goldstein doesn't seem that bad after all.

Our youths in the West, are relatively well educated and informed but I'm not sure how well they are acquainted with our history and current status quo. In the early '70s, particularly in the '60s premed students in the college campuses were regarded as either geeks, or nerds. Today this no longer holds true. A recent article in The New York Times reports that today both Stanford and Harvard are experiencing sharp declines in student enrollments in Humanities. Most are interested in studying STEM: Science, technology, engineering and mathematics. So, that's today's trend but our scenario is a little different, and it's crucial that some of our Tibetan students take up some liberal arts subjects, even if they are science majors.
Incidentally, I'm very impressed with the activities of Students for a Free Tibet (SFT). To me SFT also stands for Students First Team. They are not so much of talk but all walk. Kudos to you patriots for executing with efficiency and persistent perseverance, in fighting for our cause without getting mired in useless criticism of others, who are doing their utmost to elevate our standing in diaspora against many odds. Keep up the good job. You are a source of pride and inspiration.
As for TYC there's not much to say except that TYC was started in 1970 with high ideals and objectives. Over the years it has metamorphosed into something that is not very conducive for our cause. For instance, about four years back notice was served that it was organizing huge protests in Delhi. Large number of our folks from different parts of India went to Delhi for the occasion but to their utter dismay once they got there, there was nobody from the TYC board to instruct them. It was a fiasco. To further tarnish its reputation, His Holiness had to personally apologize to some personnel from the US Embassy for TYC and others for fraudulent visa applications and what not. Indeed, this is embarrassing and pathetic.

My experience with Tibetan Political Review has been positive. I believe theirs is a collective initiative on the part of volunteer editors endeavoring toward an independent homeland, and execute it  in a civilized way aligned with democratic principles. In the past I had e-mailed articles to TPR during the 2011 elections and also on MWA, and they posted all. However, I cannot say the same thing when it comes to Phayul which for some reason has not posted my past articles except for one. That posting was facilitated by a third party. Phayul editor would not even post my pieces on JN in the comment section. This is sad. Articles on Phayul hailing freedom of speech and rangzen linger for eons, and yet I get censored every time. Is it a case of cognitive cacophony or what?
I'm a fervent Middle Way fan and those who clamor for rangzen -- that's your prerogative in a free democratic society. It would be meaningful if rangzenpas could come up with either a road map or blueprint instead of aimlessly beating the rangzen drum ever so loudly. So far I haven't come across any meaningful rangzen proposal with the exception of a certain Milarangzen who had sagaciously come up with his proposal, highlighted by facts, statistics, maps and clarity. That's what we need. I thought it was very realistic in today's political climate. Even though an Umava, I found the the pitch highly enticing.
Now we have reached a critical juncture in our collective endeavors in seeking justice and freedom. Nascent introduction of TNC, I believe is done with the best of intention but to be associated with JN maybe a judgmental miscarriage, I believe. JN's antics go contrary to Andrug Gompo Tashi's ways for Andrutsang was a fervent believer of Kundun to whom he had graciously offered Mendrel Tensum. He was a very respectable, selfless martyr who had sacrificed everything for our collective cause. He was also a very sensible man for when the final Chinese assault became so massive in March 1959, he sought refuge along with his warriors instead of ordering his men for a Kamikaze showdown with the pursuers. If Angrutsang were living today he would have dissociated with JN because G.T. was a very devout Dharmaist with immense reverence for His Holiness. It's possible some of today's youth might be swayed by JN's sugarcoated lies mixed with some truth under the rangzen veil.
As for JN he went to Lo or Mustang supposedly to fight. Did you know he went there with two heavy satchels of novels loaded on a mule, as he had stated on YouTube? Have you ever heard of anyone going to the frontiers to fight with a mule laden with books? Here it's important to remember Abraham Lincoln's quotation, "You can fool some people sometimes, and some prole all the time but you can't fool all the people all the time." In the '60s we called him Sonam Paljor which he later changed to Jamyang Norbu. What kind of norbu is he? Perhaps, he now may want to change it to Jamyang Lhejin.
Sincerely,
Chewang Ngokhang (Ajo Che)
California, U.S.A.
---