By Woeser

June 19, is the last day of Saga Dawa, the festival that lasts for one month, the fourth month of the Tibetan calendar, also called "Buddhist month". This year's Saga Dawa has been a festival in flames, unseen and unheard of in the history of Tibet.


"Saga Dawa In Flames"
By Woeser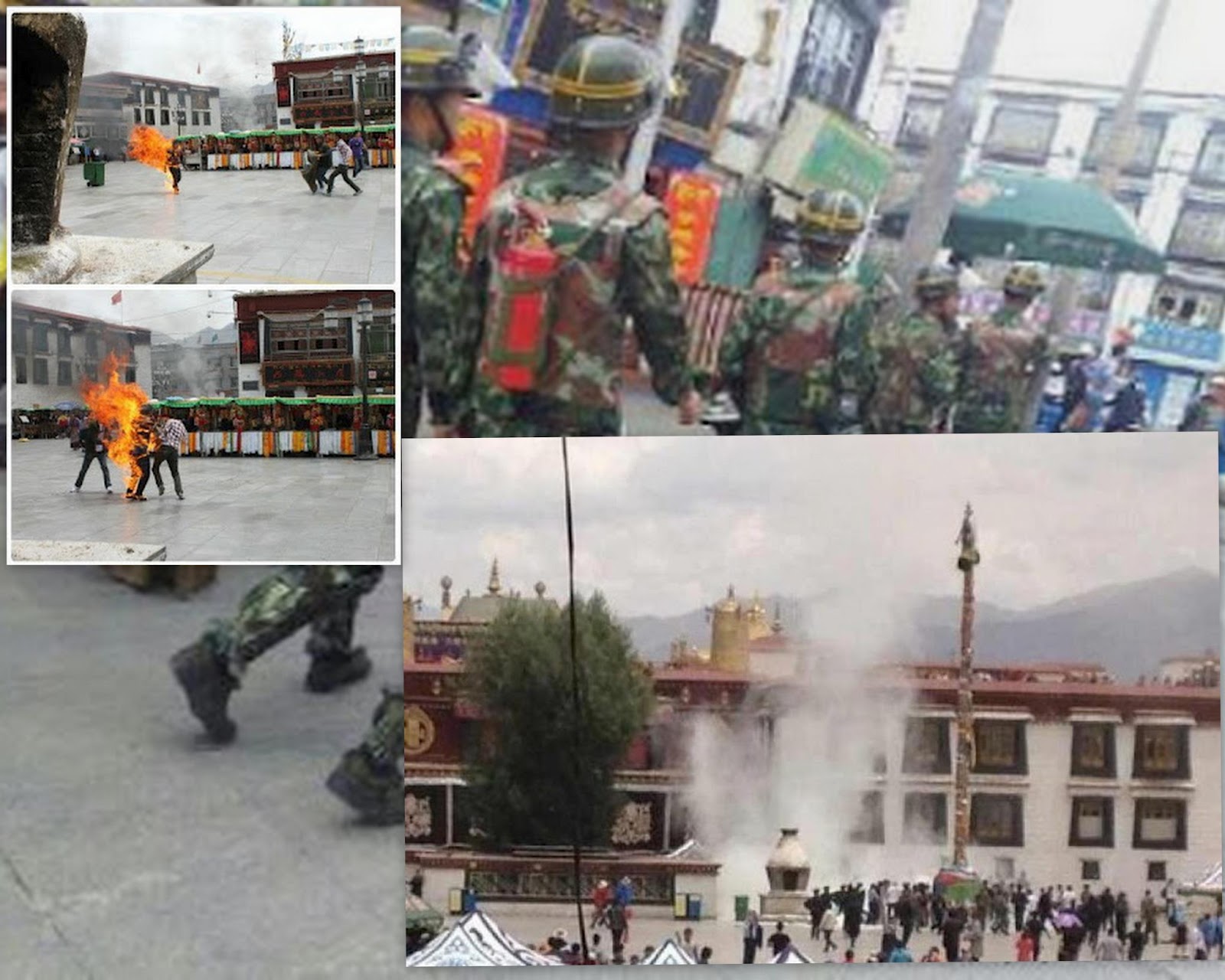 As Saga Dawa was approaching, the atmosphere in Lhasa and in the whole of Tibet was more tense than before. In fact, no matter whether it is a local festival, a traditional or a foreign imposed one, to use a currently popular saying, they are all, without exception, considered sensitive days.
Other than sensitive days, there are also sensitive months; March, for instance, is such a sensitive month because since 1959, many important events have occurred in March. Of course, the one-month-long Saga Dawa is also considered a sensitive month, thousands upon thousands of Tibetan devout believers fulfill the Buddhist spirit, a spirit that the materialist non-believers are totally deficient of, a spirit that these people are not willing to see.
As expected, the Tibet Daily sententiously published a notice of the Commission for Discipline Inspection and Supervision Department of the Tibet Autonomous Region on the second day of Saga Dawa, explaining that this notice had been "issued the day before", but clearly, it had been publicised before Saga Dawa had even started. The notice linked Saga Dawa to the "struggle against separatism" and requested that "the battle against separatism must not be challenged in any way", "it has to be ensured that during the religious activities of Saga Dawa, large-scale, medium-scale or minor events must be prevented in the entire region"; the use of military language immediately pervaded the originally religious festival with the smell of gunpowder.
It looks as if the notice was directed at the following people: "Party cadres", "retired cadres", "Party members, government employees, students" as well as Party members' "families and personnel" etc. But in fact, it reached out to a broad audience and its rhetoric was highly threatening; in this very short notice, "do not participate" or "not allowed to participate" in Saga Dawa appeared more than three times and even clearly expressed that "if one did, the person will be dealt with in a serious manner and the leaders of the person's work unit will be held responsible."
Interestingly, the notice reprimanded "Party cadres", "retired cadres" in several instances not to "follow the Dalai", "let alone to openly follow the Dalai" or "leave the country to worship the Dalai", expressing that "such actions will be dealt with in a strict manner according to the law". This was perhaps the first time that the local authorities in their official media publicly acknowledged the Dalai Lama's central position and influence upon Tibetan people, even upon those working within the system, those occupying official positions; they do not only "follow" him in their hearts, they even actively "follow" him, which means that the "struggle against separatism" has lost people's support, to the extent that the local authorities, completely ignorant of the consequences, publicly violated their own constitution and issued in their media an official order to prohibit a religious festival.
This made me once again go back to an article that I wrote three years ago, in 2009, "The Truth About this Year's Saga Dawa". Without looking back we will not be aware of how absurd the realities of our life are, and how brave the resistance is of those who have been deprived of everything; back then, no official prohibition was announced in the media, but similar messages were passed on at a meeting: "The prohibition was directed at all sectors of society, even though their announcements were as unoriginal as always, the intimidation and fear that they entailed were only really understood by Tibetans". Despite this prohibition, on the 15th day of the 4th month according to the Tibetan calendar, 200 Tibetans, mostly from Kham, faced the Potala Palace and shouted out "Lha Gyalo"; some of these Tibetans were thrown into prison for this.
On the 6th day of this year's Saga Dawa, between the sacred Jokhang Temple and the place of oppression, the Barkhor Police Station, in a place that is at once prayer's path, a commercial street and a tourist attraction and that is thus heavily guarded by armed military police carrying loaded rifles, two young Tibetans from Amdo who had been jobbing in Lhasa, went up in flames and self-immolated; one of them died, the other was injured and disappeared. This, in fact, exposes the true state and the price of living in today's Tibet, which makes those people who have a conscience feel deep sorrow and it makes the evil perpetrators take insane revenge.
Shortly after, on the seventh day of Saga Dawa, the bitter news arrived that a mother of three children, Rikyo, sacrificed herself by self-immolation in Zamthang, Amdo… yet, some days later, the official media once more reported the following fabricated news: "The Tibetan Saga Dawa festival attracted thousands of believers during peak times who came to pray", as if nothing had happened, Tibetans are "happier than ever before".
June 7, 2012
Originally published at High Peaks Pure Earth, http://highpeakspureearth.com/2012/saga-dawa-in-flames-by-woeser/  Republished in TPR with permission.