By Jamyang Dorjee
Nepal is undergoing unprecedented rapid political changes with new political powers emerging. Changes will mean challenges and opportunities but when it comes to the issue of Tibetans in Nepal, the exile administration or the Tibetan NGO's have not moved an inch further both in terms of accepting challenges or finding opportunities. How many Members of Parliaments or Secretaries in Dharamsla have seriously read some of the best analytical reports such as 'Tibet's stateless nationals' by Tibet Justice centre and two detailed reports of ICT including 'Dangerous crossings' and 'an uncertain welcomes'?  I think it is time that the new Kashag should discuss these reports and seriously find solutions before.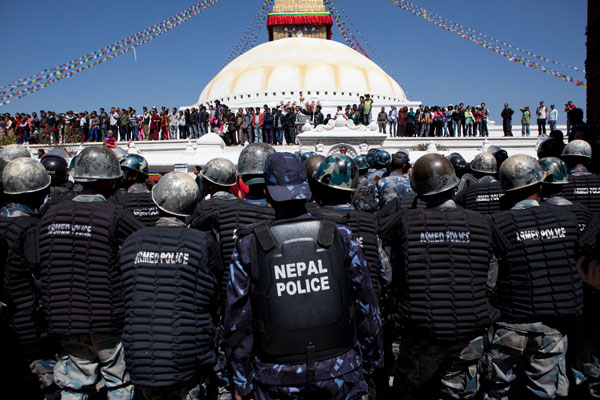 Recently I circulated the following few points roughly jotted down which, I believe are pertinent for the friends of Tibet and I would be happy to share in Tibetan Political Review. I believe with a clear understanding of the situation on ground will we be able to find a solution to problems. This is an era of communication and dialogue. Violent protest in front of the Chinese embassy or bashing Nepalese people or Government is not helping the plight of the Tibetans in Nepal. The fact remains that Nepal is passing through a transition period when there is no stable responsible Government. This period may last for few more years.
Today human rights activists and civil societies are the only source of some semblance of security for the Tibetans in Nepal and the new refugee representative from Himali origin appointed by Kashag, I think, is a welcome step. But he alone can't deliver unless he has the support from outside as well as inside. As mentioned by him in the press there is Chinese in the garb of Tibetans which may prove to be a headache for him. Additionally Tibetan bureaucracy is also not very simple.
The problems of Tibetans in Nepal can be categorized in three sectors: 1) New comers, 2) Undocumented Tibetans born in Nepal, and 3) Forgotten settlements.
The first gets international attention, the second mired in political misunderstandings and the third completely forgotten.


Undocumented Tibetans
Very often we think that new arrivals of Tibetans who stayed back instead of going to India are the undocumented people. There are few but the bulk of the undocumented Tibetans are born and brought up in Nepal itself. Ironically for them it is a sin to be born in the birth place of Buddha. They continue to suffer emotionally.


-Why they remained undocumented?
Nepal officially stopped giving RC (Refugee card) to the Tibetans in 1998. In India RC would mean a Residential Card which has the names of spouses also and when the children attained the age of 18, they automatically are entitled to get one. But Nepal's RC is used only for the person issued and does not have any rights except to live and avoid arrest.
By the time Nepal Government stopped issuing RC in 1998, there were already about 3800 applications already submitted before the dateline. Tibetan local leaders approached Koirala, the PM to at least release those pending applications. It was agreed that each person will pay Rs 5000/- and the pending applications will be released gradually.  This process went till 2005 as new photos were replaced on the old application for persons who have already left the country and whose sex and age could match but without changing the names. After this process no further RC's were issued and spouses of all those 15,000 odd Tibetans who attained the age of 18 every year are undocumented. Citizen by birth is not applicable and making genuine citizen is not easy. Few have also resorted in making fake citizenship papers for survival but is always very risky.


-Did Nepal have a refugee policy and did they change it?
Since Nepal is not a signatory to the international refugee convention so they do not have a refugee policy technically. In 1959 king Mahendra allowed Tibetan refugees to come and settle under what is called a 'gentlemen's agreement'.
However in 2004 when the then PM Surya Bahadur Thapa went to Washington DC, he not only assured the United Sate Government that they have not changed the gentlemen's agreement but also gave in writing  what is called as " His Majesty Royals Nepal's policy on Refugees' where they very clearly said that they is no change in the policy.


-Facts on Buddhism and the Tibetan:
During 240 years of Hindu kingdom, Buddhism was systematically Hinduised and even animal sacrifices were encouraged. Even today there are two small poles fixed in front of the main chapel of the Boudhnath stupa which was used to tie up buffalo for sacrifice. Buddhism was confined to the extreme borders which are linked with Tibet.
But after 1959 many Tibetan masters have fled to Nepal and made Nepal as a base. Nepali Buddhists were awakened and Buddhism naturally revived as never before and today there are about 5000 vibrant living monasteries some of them dating back to 900 years old. This has not made the Hindu Brahmin rulers very happy. Therefore, Tibetans are punished for not only being anti Chinese but also being promoting Buddhism.
Now that Nepal has declared itself as a secular country and Nepali Buddhists especially 19 different races from Drachula to Taplejung comprising of Sherpa, Manang, Lhopa, Walungpa, Dolpo, Gyasumdo, Kyirongpa, drokpas, Yolmopa etc etc share the same culture, religion and tradition with the Tibetans and almost all of them are devoted followers of His Holiness the Dalai Lama. They also suffered under the Brahmin rulers just like the Tibetans. Centuries of political neglect and isolation rendered them powerless but slowly things are changing. Nepal is now secular and indigenous people are fighting for their rights.  Even today Nepali rulers go to Beijing and cautions  them by saying that these people are pro Dalai Lama and hence be careful while at the same time goes to Delhi and says that these people are Buddhists and hence anti Hindu.


-One China Policy of Nepal
Unlike anywhere where else where one China means policy relating to Taiwan, in Nepal when a leader says or made to say that Nepal believes in one China policy means that Tibet is a part of China and nothing else. All other activities like the celebration of birthday of HH are termed as 'Free Tibet movement' and hence anti China. Tibetan national flags and Free Tibet T-shirts which were a common scene in Boudha stupa market few years back have now disappeared completely.

-Two refugees in Nepal
There are about one hundred thousand Bhutanese refugees in seven major camps looked after by the Nepalese Government under a Chief Coordinator and active participation of UNHCR. All facilities like medical, education food and even a time slot in the local FM channel to voice their grievances are provided. Their immigration process to third country like USA and Canada are well coordinated and transportation from their camps to the airport are coordinated.  So far 30,000 refugees have already been resettled in the west.
The two contrasting treatment  to two types of refugees in Nepal by the Hindu rulers of Nepal politics are very clear and often the indigenous Himali leaders cite this example in their debate on racial discrimination.
Forgotten settlements
We have heard of the Pokhra and Jwalakhel settlements but we hardly hear about the plights of the five other settlements such as in Mustang, Walung and Rasuwa. One of my friends whose family lives in Sebrubensi in Rasuwa told me that they have never seen the face of settlement officers.  Chinese authorities from TAR, who are allowed to cross the borders often come and tell them to come back to Tibet as nobody  is looking after them. Most of the schools and clinics in these regions built for the refugees by those earlier hardworking settlements officers have now remained neglect and building taken over by the Nepali authorities. Only faith in His Holiness is holding them today.
-Myths churned out

During 
the last one year another myth is churned in Nepal. It is said in some of the media that India is preparing to launch anti China activity by using the Tibetan refugees in Nepal

  

and reviving Khampa warriors at the border.

  

Recently Sudan Karki, The general secretary of Kirat National Liberation Front, said on September 5, 2010," The Indian ambassador Mr

  
Sood's visit to the Himali region is intended to provoke the Third Khampa revolt". (Telegraph Nepal).
Historically it is a fact the  Khampas fought the Chinese  
since 1949 . According to Mikel Dunhams book 'Buddha's warriors" From 1955/56 Tibet's freedom fighters were assisted, with varying degrees of success by the CIA, until the eventual collapse of organized resistance inside Tibet in 1962. Many were killed and tortured, survivors escaped and regrouped into Western Nepal to carry on the struggle with renewed American support until 1969 when aiding the Tibetans fell hostage to President Nixon's rapprochement with China. That was a long long ago.
Creating such myths are useful for the Nepali politicians to continue receive financial aid to fight the ghost and for the Chinese to curb so called 'anti China activity,' but in the long run to access 1400 kms open border with India.
Reasonable international media pressure devoid of Nepal bashing, may help especially since many of the Nepali intellectuals are receptive to the plight of Tibetans. These are some of my observations only. Please correct me if I am wrong.