Editors' Note: This article was submitted to TPR by the author.  It is a follow-up to a public debate between the author and the Sikyong conducted in the pages of the Asian Age and The Diplomat (see

here

,

here

, and

here

), and

Tibet.net

.  The Sikyong also discussed some of these issues on the floor of the Tibetan Parliament-in-Exile on March 22. 

TPR provided an advance copy of this article to the office of the Sikyong to offer an opportunity for a response to be included.  No response was received.

TPR encourages the submission of articles from all viewpoints.  Any article published in TPR represents the view of that article's author. 

--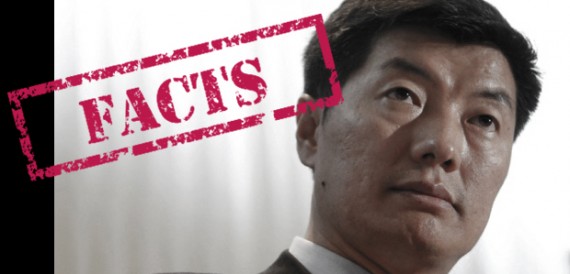 By Maura Moynihan


In an interview with The Diplomat on April 4, 2014, Tibetan exile Prime Minister Lobsang Sangay dismissed concerns about his alarmingly pro-Beijing stance as "baseless."  Yet Sangay continues to avoid addressing the simple facts, which are these:
In May 2013, Sangay announced that his administration was abandoning the goal of democracy, accepting Communist rule in Tibet in its "present structure", and acquiescing to China's "discretion" in militarizing the Tibetan Plateau.  The full transcript of his speech is here: http://www.cfr.org/tibet/conversation-sikyong-lobsang-sangay/p30679
 After long denying that he had used "Overseas Chinese National" travel papers to go to China in 2005, Sangay finally admitted it in 2011.  Here is the video: http://www.youtube.com/watch?v=EGdUEgs3n6Y  In a fractious discussion in the Tibetan Parliament-in-Exile on March 22, 2014, Sangay admitted to going to China but again evaded the issue of signing "Overseas Chinese National" papers.  Here is the video (at the one hour mark, in Tibetan): http://youtu.be/gT7TYMZcU8Q

Also at the same Parliament session, Sangay sidestepped an accounting of a mysterious quarter-million dollar windfall.  Just four years after buying a house near Boston, he managed to pay off a $227,000 mortgage on July 29, 2011; he became prime minister just one week later.  He still refuses to account for how his mortgage disappeared overnight, and with such fortuitous timing. His mortgage documents are here, laying out all the facts except the continuing mystery of where the money came from: http://www.scribd.com/doc/110372514/lobsangsangay-mortgages
Sangay's embrace of the Chinese communist party goes far beyond anything in the two policy papers on Tibetan autonomy put out by his predecessor.  On the contrary, these earlier papers had called for "the right of Tibetans to create their own regional government and government institutions and processes."  These two documents are here: http://www.savetibet.org/policy-center/topics-fact-sheets/memorandum-genuine-autonomy-tibetan-people and http://www.savetibet.org/policy-center/topics-fact-sheets/note-memorandum-genuine-autonomy-tibetan-people
Given Sangay's pro-China policies, the following facts from his past are all the more troubling. 
Sangay will not discuss his close relationship with Hu Xiaojiang, whom intelligence sources identify as a Chinese Ministry of State Security co-optee.  Hu and Sangay met at Harvard Law School and gave many public lectures about Chinese-Tibetan friendship. Hu is so trusted by the Chinese government that it allowed her access to the ultra-sensitive government archives in Lhasa to research her 2003 Ph.D. thesis on Chinese migration into Tibet, as disclosed in her thesis.  (Hu makes special note of Sangay in her acknowledgements).  An excerpt from Hu's thesis, including a discussion of her topic and her special acknowledgment of Sangay, is here: http://www.scribd.com/doc/217140654/Hu-Xiaojiang-Thesis-excerpt
Sangay's disturbing use of Chinese Communist propaganda code-words to describe Tibet can be found in his published papers. In one paper, Sangay refers to pre-1959 Tibet as a "feudal realm" that was "shackled to feudalism," with "monks and grandees" displaying "reactionary" anti-modern attitudes. This is language that originates from Chinese Communist propaganda tracts about Tibet.  Sangay also – fifteen times – calls His Holiness the Dalai Lama simply "the Lama," a level of disrespect that only Chinese Communists employ.   Here is the paper, Tibet: Exiles' Journey (2003), in Journal of Democracy: http://www.phayul.com/news/article.aspx?id=509&t=1
The Journal of Democracy is supported by the National Endowment for Democracy based in Washington DC.  In a March 2014 address at the National Endowment for Democracy, Sangay spoke of being portrayed in Tibetan thangkas (religious paintings) and compared himself to the Emperor of China.  The video can be seen here: http://www.ned.org/events/challenges-and-opportunities-for-tibetan-democracy-in-exile
These are the well-documented facts that lead to the concern that Sangay is alarmingly pro-Beijing.  Given that Sangay's attempt at evasion only harms his own credibility, hopefully he will simply address the facts.