By Sonam Dorjee (Toronto, Canada)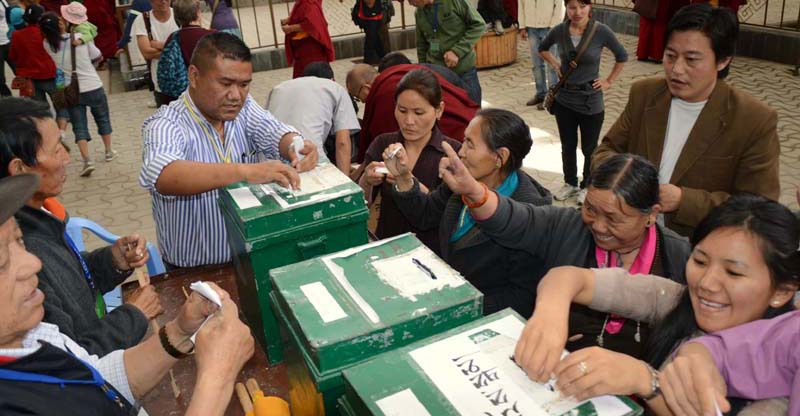 Allegations and counter allegations are apparently a norm of conventional politics throughout the world during election seasons. In that context, the recent allegations and rebuttals on issues that are of interest to the general public are quite encouraging to have discussed along the process. Our fairly new democratic practices to announce the Sikyong candidature and to elect the Sikyong by majority votes are coming-of-age in many respects. Unlike the Chinese leadership succession, we have had successful democratic transition from the hitherto Kalon Tripa selection process to the direct election of Kalon Tripa by majority votes. Likewise, successful transition of popularly elected Kalon Tripa position to the present Sikyong position, having complete authority over Tibetan political affairs, have been hailed as an ultimate transition to a genuine democratic system by many people around the world.
The 2016 Sikyong election looks promising in terms of raising higher standards and inducing an overall maturity in the Tibetan democratic system. The declared candidatures and other individuals, whose names are being mulled over as a potential Sikyong candidate on social media, have diverse personal qualifications and experiences. The first ever direct election of Sikyong in 2016 would be, undeniably, an interesting and closely-fought election amongst qualified candidates. It is truly a moment of pride for all Tibetans to have young candidates to choose from during the 2016 Sikyong election, as well as a vibrant Diaspora community in exile taking keen interest in the electoral system. Having said that, it is befitting to acknowledge and commend His Holiness' vision and relentless hard work in establishing the best form of democratic system in our society, which is coming into fruition now.     
Speaking of the candidates, it is intriguing enough to comment on the announcement of Sikyong candidature Mr. Tashi Wangdu. The voluntary announcement of his candidature could not have been more fitting; not only added value to the positively evolving Tibetan democratic processes but also to the Tibetan struggle, which is essentially that of a 'Tibetan Race' as opposed to a generational struggle to maintain status quo of pre 1959 system; a notion that is often put forth by the Communist regime to justify their atrocities against Tibetan race. His candidature assumes significance on two counts. Firstly, provides a compelling choice for voters to elect an equally qualified candidate like any other candidates who are in the race either to occupy or retain Sikyong's position. Secondly, more importantly, conveys a strong and clear message to the Chinese regime that younger generations of Tibetans have the sheer willingness and determination to carry forward the struggle against the brutal Chinese regime and to restore freedom to the people of Tibet.  
Mr. Wangdu's well-structured election manifestos of SEEN and smartly engineering election campaigns using social Media certainly helped create a buzz among younger generations of Tibetan voters. His recent allegations to highlight the situations in Tibetan settlements, followed by rebuttal statement from the Department of Health, Central Tibetan Administration helped put some of the contentious issues such as, the plight of hospitals in Tibetan settlements and allegedly misusing of government machineries for personal election campaign, into public domain for discussions. In future too, it would be an earnest hope of a voter like me to see more contentious issues being put forth into public domain, just so that the ailing system could be overhauled for larger benefits.
Unlike in the past, this time around, the candidates will have less chance of running into trouble with voters. In the past, the risk of any criticisms on the plight of public goods as criticizing His Holiness was looming large, as His Holiness was the figurehead of the then Central Tibetan Administration. Now with the divulgence of political power to the Sikyong, Tibetans by and large would consider and direct any shortcomings in the system as inefficiency of the Central Tibetan Administration headed by the Sikyong.
As things unfold, answers to these questions remain to be seen: How many more candidates will enter into the race to become the Sikyong during 2016 election? What kinds of campaign approaches the incumbent Sikyong Dr. Lobsang Sangay will adopt to retain his position for the second term? Will Dr. Sangay be able to get some leverage for his commendable work, in my view, in the field of education scholarship and garnering international support? Or will he be subjected to further scrutiny on the allegations from Ms. Maura Moynihan? Also, remain to be seen is how Tsoktso Penpa Tsering will shape up his election campaign with endorsements from Utsang Cholkha and National Democratic Party of Tibet.
Like any other avid followers of Tibetan elections, I look forward to substantive and lively debates with open discussions on contentious issues that ail our Diaspora community. Relating to the premise of this piece of personal opinion, I think a high level of maturity can be attained if we are able to celebrate the great democratic traditions of frank and open discussion on any and all matters with a sole objective of further strengthening the robust exile democratic institutions. Also, a true sense of democratic responsibility can be prevailed amongst all candidates, if and only, when they discuss issues openly with an objective to find solutions; instead of running for cover up in the name of His Holiness and prevailing situations inside Tibet. 
While my choice of the Sikyong vote is reserved for the ballot box, this personal opinion is neither to endorse any of the Sikyong candidates, declared and/or future candidates, nor it is an attempt to influence any electoral judgements. In-fact, it is simply put together to acknowledge and appreciate positive things happening in our society in the run up to 2016 Sikyong's election.
With best wishes to all Sikyong candidates,

Sonam Dorjee